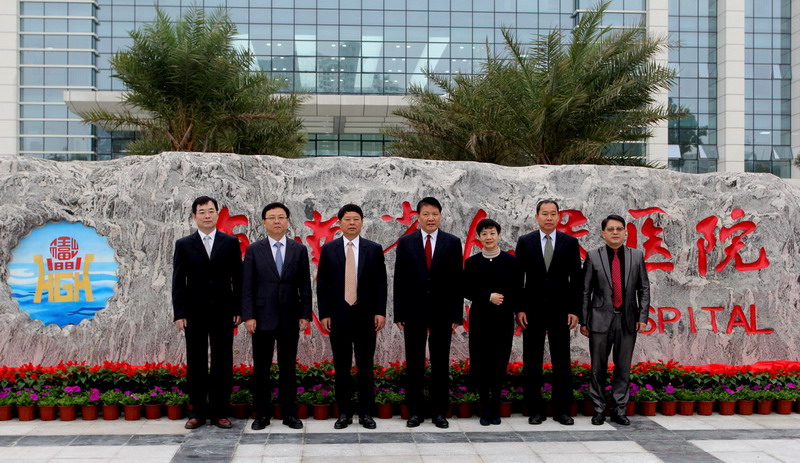 On the morning of December 11, the opening ceremony of the opening ceremony of the gate of the people's hospital of hainan province was held.
Dean zhuo-ri li, the secretary of the party committee in the people's hospital of hainan province CenSong, vice secretary of party committee Sun Xiaoning, ChanMingHua jian-nong zhao, associate dean, Jiang Hongyan, chief accountant Cao Anhui functional departments and authority leadership and the head nurse representatives to attend the ceremony.
The ceremony officially began at 8 a.m.
Dean zhuo-ri li delivered a speech, he said, the hospital xiuying this building and internal building project is a key project in jiangsu province, the provincial government's correct leadership and the whole staff's joint efforts, the project finally takes three and a half years time in moving today.
This is typical and representative of hainan province medical project, believe that the hospital will be xi jinping, general secretary of the new era of socialism with Chinese characteristics to set foot on a new journey, build a national regional medical center.
In the countdown "5, 4, 3, 2, 1", the red cloth on the door of the door was slowly falling down, marking the completion of the emergency room and internal medicine building of the people's hospital of hainan province.
Later, the head of the hospital and the functional department led the group to take a group photo in front of the door.
This building, medical building in the people's hospital of hainan province is located in xiuying district road show China 19, including this five layer building, building area of 40500 ㎡, 17 layers of internal floor, building area of 23700 ㎡.
Can accepts outpatient 2 million visitors a year, the new 600 sickbeds, function layout is reasonable, the process of scientific, informationization level increased significantly, will greatly improve the medical environment, convenient patients go to a doctor.
It is reported that on December 16, will also host the emergency room, the internal medicine building and the 136 anniversary celebration ceremony.
Source:People's hospital of hainan province